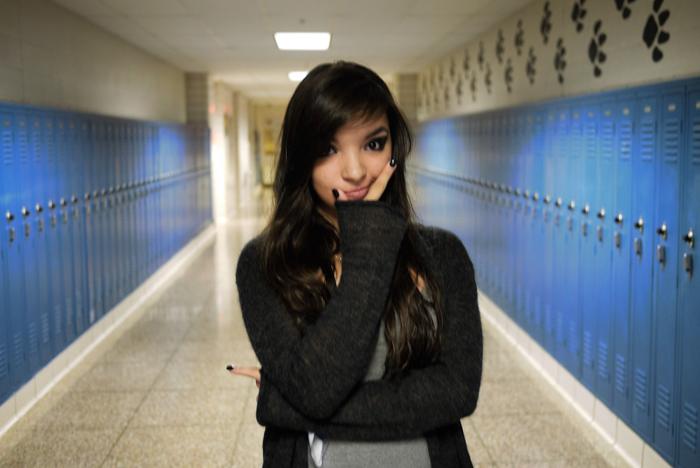 Maritza, Senior, has been in Spotlight for the past two years. Last year, 2014-2015, she was the Reviews Editor and this year, 2015-2016 she is taking on the role of Editor in Chief. She enjoys writing Opinion pieces, Reviews and Feature stories. She was driven to take Journalism because she wants her voice to be hear about situations that matter most to her. However, she is most looking forward to taking photos and keeping all social media aspects up to date.
Although Maritza dislikes watching sports, her favorites to play are badminton, football, baseball and archery. Currently, she is apart of many of the clubs both in and out of the high school. She is the President of Youth Commission. V.P. of Environmental Club, and is in NHS, Leo, Peer Leaders and many more.
However, not everything is about school. On her free time, Maritza loves to draw and sing, as well as graphic design and volunteer. She loves pizza, steak, fries, mashed potato, yogurt, ice cream, broccoli etc. but HATES BBQ sauce, ketchup, mustard, relish, milk, eggs etc.
Maritza dislikes reading, but loves horror, comedy and action movies. She enjoys trying new restaurants and visiting new places. She loves playing video games and eating whenever.
Maritza Roman, Editor in Chief
Mar 21, 2016

Changes to lock down system could increase student safety

(Story)

Feb 26, 2016

Field day for upcoming seniors and upcoming freshman will benefit both grades

(Story)

Feb 26, 2016
Feb 23, 2016

Grab your gear from "The Paw"

(Story)

Feb 23, 2016

Longhorn's luscious tastes make you want to return

(Story)

Dec 04, 2015

'Agar.io' game grows in popularity

(Story)

Dec 04, 2015

Kelly says goodbye after 29 years

(Story)

Jun 15, 2015

Janovsky pursues jam buisiness

(Story)

Apr 30, 2015

Peer Leaders advocate against big tobacco

(Story)

Apr 30, 2015

Listening to music during study helps the brain

(Story)

Apr 30, 2015
Mar 31, 2015

Dubstep proves to be beneficial

(Story)

Feb 03, 2015

Subconscious discrimination plagues society

(Story)

Feb 03, 2015

'Punk Goes Pop', radio tunes with a twist

(Story)

Jan 21, 2015

Project Purple group advocates against youth drug and alcohol use

(Story)

Nov 20, 2014

The Fault in Our Stars: Heartbreakingly brilliant

(Story)

Nov 20, 2014

Youth Commission exposes hunger in Western Mass

(Story)

Nov 19, 2014

Metal core gives sanctuary to those who don't fit in

(Story)

Nov 14, 2014

Families flocked with flamingos

(Story)