Who Should The First 5 Picks of the NFL Draft Be?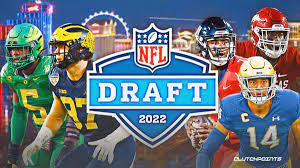 The NFL draft is almost upon us so let's check out who the top picks and prospects are. This year's draft is a unique one as there is a lot of defensive talent coming out of this class and the most coveted position, quarterback, is at an all time low for talent. Not to say that you need a good quarterback to win, but defense wins championships ultimately. A good quarterback is always great to have but in the case of the 49ers they had a consensus top ten defense and a starting quarterback that debatably isn't even top 20. The 49ers made it to the NFC Championship, one win away from the Super Bowl. This class is full of defensive talent and now's as good a time as any to start building the next great defense. So, without further adieu here is how I think the first five picks of the NFL draft should go:
With the first pick, in the 2022 NFL Draft, the Jacksonville Jaguars should select… Aiden Hutchison, Defensive End from Michigan
Hutchinson has been widely considered the first overall pick for a while now. The Jaguars have had a very good off-season to this point where they have gone out and signed former All-Pro guard Brandon Scherff. Along with building up their offensive line they signed wide receivers Christian Kirk and Zay Jones, giving Trevor Lawrence some help, finally. The Jaguars defensive line was nothing short of terrible last year as they placed 9th most in rushing yards allowed, T-3rd most in rushing touchdowns allowed, 30th in expected points contributed (-154.57!), and 25th in QB pressures. With those numbers it's no surprise that they have the first overall pick and that Aiden  Hutchinson should be wearing a Jags logo next season.
With the second pick in the 2022 NFL Draft, the Detroit Lions should select… Kayvon Thibodeaux, Defensive End from Oregon
Thibodeaux is a very fast and strong edge rusher and was nothing short of dominant at college. The only flaw to his game is his lower body strength and his technique. Due to his speed he has ease getting around the offensive line and his strength helps him go through them. He hasn't shown much of an ability to utilize pass rush moves and when going around and through doesn't work he is essentially stuck. This issue is fixable however and the Lions could very much use a guy of his skill on their defensive line. The Lions defense was 5th most in rushing yards allowed, T-5th most in rushing touchdowns allowed, and 30th in quarterback pressures. A guy of Kayvons skill could definitely help this defense with just about everything they are bad at and it would be a great pick.
With the third pick in the 2022 NFL Draft, the Houston Texans should select… Kyle Hamilton, Safety from Notre Dame
Hamilton is what many talent evaluators would call generational. He is a safety which is a position that is very underrated in terms of usage and recognition. His quickness helps him get around the field with lightning speed and his ability to read an offense is like no other. The Texans lost Justin Reid in the off-season and I think Hamilton will fill right in and maybe even be better right away. His ability to shift a defense from bad to good and good to great is something that really makes him special and his one flaw is that he isn't the hardest tackler. He is a special player and the only reason he falls to three is because he doesn't fit in well with the Jaguars and Lions.
With the fourth pick in the 2022 NFL Draft, the New York Jets should select… Ikem Ekwonu, Offensive Tackle from North Carolina State
Ekwonu is a very physical and aggressive blocker. His ability to be the lead blocker on the run is something that you don't see in many players. His strength is what helps him block through people and knock them on the ground. The Jets had an already pretty good offensive line in 2021 and Ekwonu will push them over the edge and help Zach Wilson improve and hopefully become the Jets franchise quarterback. Wilson struggled his rookie year but he ended the season playing terrific and now if they draft Ekwonu he will have the opportunity to do that across all 17 games.
With the fifth pick in the 2022 NFL Draft, the New York Giants should select… Evan Neal, Offensive Tackle from Alabama.
Neal is a very well rounded prospect with minimal flaws. He has been a starter in the highest level of college football for three years so he should be able to adjust to the NFL fairly easily. He has had some trouble with balance and early on he had struggles with winning pass blocks but now he has turned into a very good pass blocker. The Giants were 28th in pass block win percentage last year at an abysmal 54% and Neal could fill right in. The Giants already had a pretty good run blocking line and they placed 14th in rush block win percentage at 71% so Neal will only help that.