March madness showed no mercy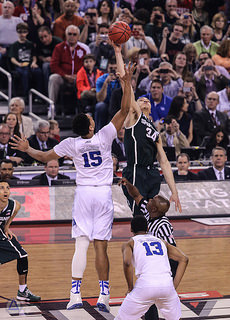 March Madness the most anticipated event in college basketball. Nearly 181 million viewers across the nation tune in throughout the tournament on either their televisions or online. The first National Collegiate Athletic Association Men's basketball tournament was in 1939, and only started out with eight teams. Now 64 teams play in the tournament, which made $1.15 billion last year in just advertising revenue alone. March Madness lives up to its name. It is probably the most intense, entertaining, and most exciting occasion in college sports. Fans fill out their brackets each year, put their bets on the best team, and tune into all of the games on television or on their mobile devices.
There are 35 different teams who have won the NCAA tournament, but UCLA leads all schools holding 11 titles. University of Connecticut is the only school to win women's and men's championships twice. The first double victory was in 2004 and the second one was the 2014 championship. Kansas City, Missouri has hosted more Final Fours than any other city. There is almost always a number twelve seed upset. The University of North Carolina Tar Heels have been a number one seed more times than any other school.
Many people fill out their brackets either by hand or online. They place bets to see who will win, but rarely are they ever lucky. The odds of filling out a perfect bracket is 1 in 9,223,372,036,854,775,808 quintillion. Yes, that's right, quintillion. You'd have a better chance of hitting four holes-in-one in a single round of golf. If everyone in the United States filled out a bracket, we would see a perfect one every four hundred years. You're more likely to be killed by a falling coconut than getting all of your picks right. After many unexpected upsets during the tournament, if you had Duke winning over Wisconsin, consider yourself lucky. This is the fifth time the Blue Devils have won a championship game.
Wright may be reached at [email protected]
Oliveira may be reached at [email protected]