Bag the Community brings South Hadley together
6th annual bag the community help the 'neighbors helping neighbors food pantry' feed over 300 families in south Hadley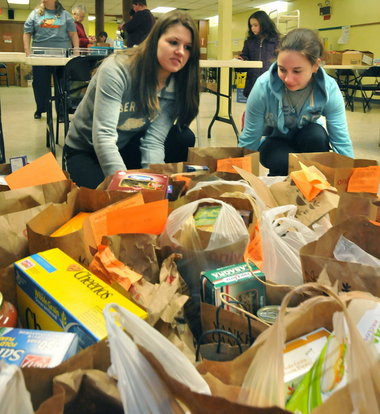 Bag the community was created seven years ago by the students of South Hadley High School to help our local food pantry. The food pantry 'Neighbors Helping Neighbors' benefits greatly by this event. Every year this community wide event helps to feed over 300 families in South Hadley. People from all over the community and Mount holyoke College come together to make this event possible.
About one in every four students in South Hadley Public Schools are food insecure, meaning they will not know where their next meal comes from. It's important to know that every can that someone in the community or in school helps to feels many of our students.
Every year 'Bag the Community' goes off with a hit. It is a shining example of how people will unite for a good cause, and give to those who are in need. I love being a part of this event along with my friends and teachers. It's an amazing event that is one of the biggest events throughout our school and town.
All the sports and clubs from South Hadley make it a priority for their athletes and members to join and help Sue Brouillette, leader of 'Bag the Community'. For example, last year the wrestling team helped to unload the food truck to the warehouse. Before the team arrived there were only a few scattered can goods throughout the warehouse and after the shelves were stocked to the fullest. Sue Brouillette described the warehouse as being too filled to even close the doors. It was amazing how this Community wide event accomplished to have ⅓ of the food the pantry needs a year. Over around 50,000 pounds of cans were donated by the town to the food pantry.
I enjoy this event because it's a few hours that I can spend with my friends, teachers and community members. Some years we find ourselves meeting new people and learning how important this event is to them. Some years when the weather is not in our favor, we find ourselves slipping and sliding around on the ice. The ice makes everything more exciting and fun. I love volunteering for 'Bag the Community', not only am I doing something positive towards the community I am also enjoying myself. More students should get involve with this event because once they've had the opportunity to volunteer, they'll be looking forward to the next one.