Hampshire Country College Fair draws students from across Western Mass
Representatives from more than 100 colleges visit the high school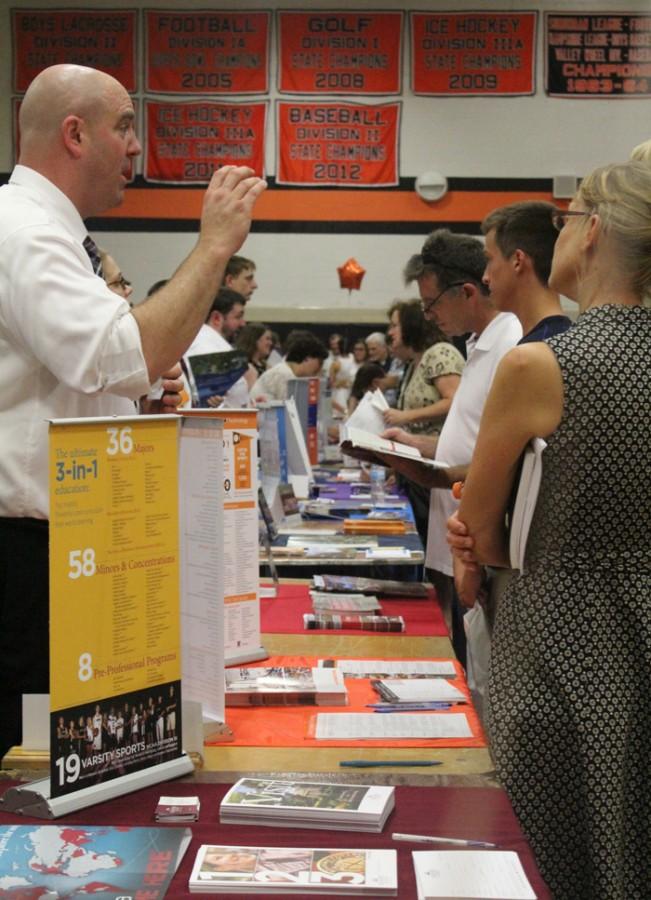 Representatives from more than 100 New England colleges set up information booths in the South Hadley High School gymnasium earlier this fall in an effort to answer questions and pitch the merits of their respective institutions. Students from all over the region came to ask questions and learn facts about particular colleges. Students were given the opportunity to acquire knowledge about these colleges.
Different colleges expressed the reason they came to South Hadley High, the questions they were asked by students, and what their greatest feature is.
Rivier University said, "l've come to introduce South Hadley students to Rivier university and help them with their college choices. Also, many of the questions we are receiving tonight from students are based on our university's size, teacher-student ratio, and location. We are known for being a small liberal arts school that is also well known for its dedication to students and learning style. Our college is just looking for an academic, positive, and hardworking student."
West Point Academy said, " My purpose in being here tonight is to recruit students to be cadets. I've been asked many questions on how to apply, where we are located and what exactly do we do. We're known for our great education and the fact that the army pays for your college tuition. West Point is looking for someone who has leadership potential, is respectful and really someone who wants to serve their country."
Saint Michaels University said, "We travel all around the world to meet students and introduce them to our college. Students are asking questions about our programs, like the majors that we offer. They are also asking about the land and living requirements. The best feature about our university is that we require students to live on campus which allows them to have a greater bound between each other. Saint Michaels is looking for well-rounded students with leadership skills."
Different students from all over the region also expressed the reason they came to South Hadley High, the questions they were asking and the answers they were receiving.
Paige Joy, not a student at South Hadley High School, said, " I came to the college fair in hopes that I could take a look at several colleges in one night. I'm also hoping that after tonight I will know what steps to take in the college process. The questions I'm asking all the colleges I am speaking to are about majors, size, and distance. Each college is giving specific answers which is great."
Taylor Hoagland, a South Hadley High school student, said, "I came to the college to volunteer and to learn about different colleges. I'm hoping to know more about college and the steps i should be taking at this point after tonight. I've just been asking question about majors and the colleges are replying with specific answers. They've also been giving tips on how to stand out."
The Hampshire college fair was a success. South Hadley High School received positive feedback from students and the college's representatives.
Rodriguez may be reached at [email protected]