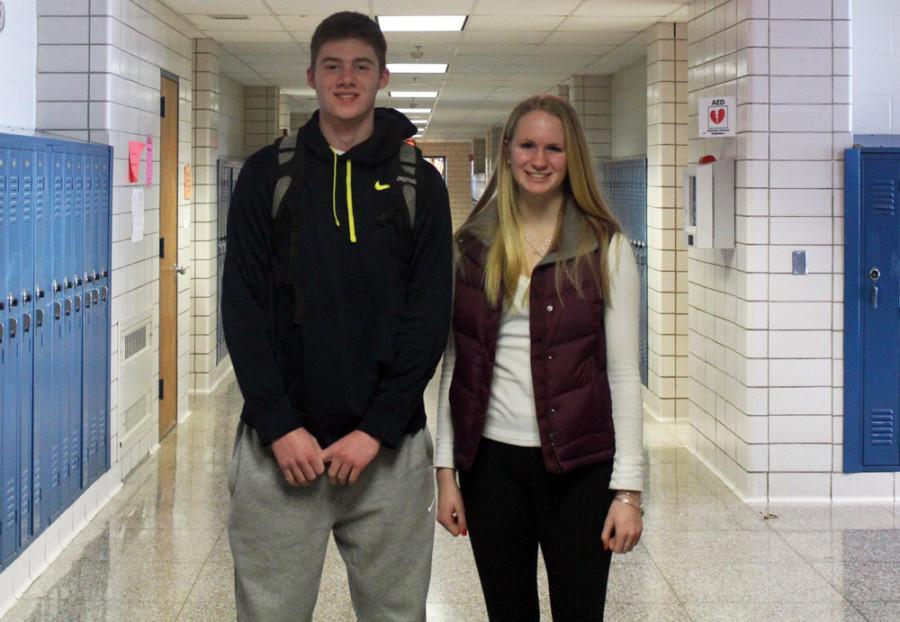 Photo by Spotlight staff
This month's athletes of the month are Sophomore Carolyn Watkins and Senior Cam Earle. They were selected due to their stand out performances in their respective sports. Watkins is a defender on the varsity hockey team and Earle plays varsity basketball.
Watkins started playing hockey when she was three years old after seeing her older brother play. She's been playing ever since and is the only female on the hockey team. She also competed at States for cross country this past fall.
This upcoming season holds some challenges for the Tigers and Watkins said she thinks it will be more of a rebuilding year for the team, which currently has an overall record of 1-6-1.
"Honestly, I think it will be a regrouping year," said Watkins. "We gained 13 new players, so we will see how that goes."
Even though she is unsure of the success of the team, Watkins said she is very excited for the season. "I'm looking forward to getting closer with the team and getting to know the guys more and hopefully getting more playing time on the ice. I'm just excited to play."
Earle's average points per game is 22.9. Earlier this season, he scored twenty eight points against Granby. "I didnt even realize I put up 28 points until after the after the game," said Earle. "But it felt good to get the win."
Earle is hoping for a bounceback year for the Tigers this year after a first round playoff loss last year against North Middlesex. With an overall winning record of 7-4, the team is off to a great start.  "I think we will be pretty good this year. We have a lot of athletic kids, so hopefully it'll work out good," said Earle. "I'm looking forward to having a good season, getting to know my teammates better, and hopefully winning Western Mass."
Watkins and Earle still have many games ahead of them, but they're off to a great start and hopefully can continue their early season success.
Wright may be reached at [email protected]
Oliveira may be reached at [email protected]