Netflix's Lupin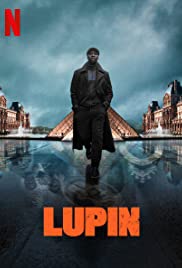 A new Netflix series is making headlines around the world. The name is Lupin and it is a crime drama created by George Kay and Francois Uzan. It is the first French series to be in the U.S. top 10 most popular shows, sitting at number 3 as of January 13. In France and many other countries it is the most popular show at the moment holding the top spot. Lupin just aired on January 8, with 5 episodes of around 40 to 50 minutes long as part 1 of the series. 
 The series follows the story of a Senegalese man, Assane Diop (Omar Sy), who uses inspiration from Arsene Lupin, a character of a fictional book series created by Maurice LeBlanc in the early 1900s. Assane had come from Senegal to France when he was little with his father who was looking for a better life for his son. When Assane is around 15, his father is framed for stealing a necklace from the family he works for, the Pellegrini's. Assane's father then hangs himself in Jail out of supposed guilt or shame. Right before his death, he gifts his son the book Arsene Lupin, Gentleman Burglar. 25 years later, it is revealed to Assane that Mr. Pellegrini's company was going bankrupt so the day before, he upped his insurance on the necklace. Assane now has a family with a 14 year old son and a divorced wife. With the inspiration of Lupin, Assane goes out and vows to get revenge on the Pelligrinis using the tricks and thievery he learned from the books to expose Mr. Pellegrini's crimes. 
Lupin is set in Paris, as there are many scenes in and around the Louvre, and makes great use of the city's locations. Even though it is available to be seen in English, I recommend that you watch it in French with subtitles and you might start picking up words here and there. Whether you watch in French or not, I am sure it will get you hooked wanting to watch more– and who knows when Part 2 will be available since Part 1 just came out. But even more: after watching the series, you will be wanting to read the original novel by Maurice Blanc, which is available on Amazon or at a local bookstore or Library.
(5 out of 5 paws)