Trump and COVID-19
"I'll walk in there, kiss everyone in that audience. I'll kiss the guys and the beautiful women."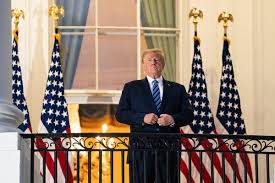 As coronavirus cases start to surge all around the country, President Donald Trump and First Lady Melania were both diagnosed with the virus in early October.Their diagnosis is connected to an event held in the White House's Rose Garden just a few days prior, which has now been linked to at least 12 positive cases.
President Trump was held in the Walter Reed Medical Center, where he received world-class treatment that almost no Americans have access to. He left after about three days to go back to the White House, ignoring doctors saying that he was "not out of the woods yet." Upon arrival at the White House, he took off his mask, and in less than 48 hours, the White House became a coronavirus hotspot.
Despite everything going on, including his own diagnosis, he continues to hold rallies and events, many with nearly nobody wearing masks. He even says that he will kiss his supporters. "I'll walk in there, kiss everyone in that audience. I'll kiss the guys and the beautiful women." He told the American people in a tweet to "not be afraid of it" and "don't let it dominate you."
The 210,000+ people that have lost loved ones due to coronavirus seem to strongly disagree.