Tigers' Den Cooking onto Year Two
Ezra Bleau has worked hard to give students the skills required to become successful cooks.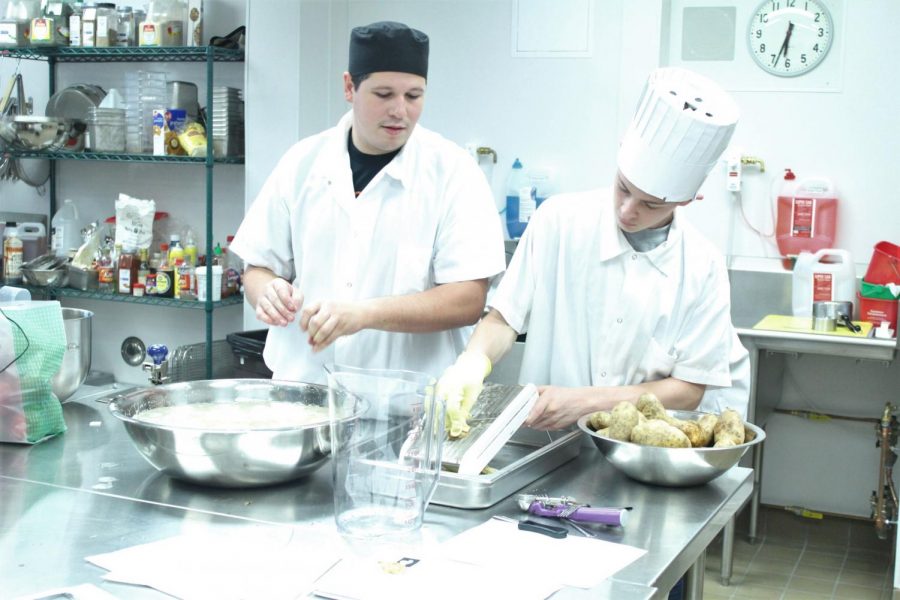 The high school's culinary arts program, run by Chef Ezra Bleau, has shown major growth in just one year. What began as a small program inside a cramped classroom has blossomed into a real in-school-restaurant that the culinary students named The Tigers' Den.
The Den is located to the right of the high school library, inside what used to be a high school history classroom. The culinary program has 21 students enrolled this year, one of whom is junior Brennan Lucia.
"Mr. Bleau is a great teacher," Lucia said. "He's really helped me the past two years."
Each student has a uniform and is being exposed to new techniques everyday. Just recently they have open the bistro to teachers as well as the football team. In early September the culinary students cooked their first lunch for teachers, which consisted of bacon cheeseburgers with house smoked bacon, and fries. Breaded chicken tenders were an additional item on the menu. There was only positive comments about the cooking. At a later date they made filet mignon with garlic mashed potatoes and asparagus. Latin teacher Phil Langevin partook in the three-course offering.
"Overall, all the meals are delectable and quite delicious," he said. "The filet mignon was my favorite. The way the kitchen is run is very professional."
In addition to cooking for teachers, Bleau and his students have prepared spaghetti dinners for the football team.
Looking into the future, Bleau plans on opening the bistro to all high school students sometime after Thanksgiving, which will allow them to explore new cuisines and styles of cooking. In terms of operating the Tigers' Den, Bleau's philosophy is that students should not be afraid to try new things, as long as they're willing to give their best effort.
"Don't wait for the perfect moment," Bleau said. "Take the moment, and make it perfect."